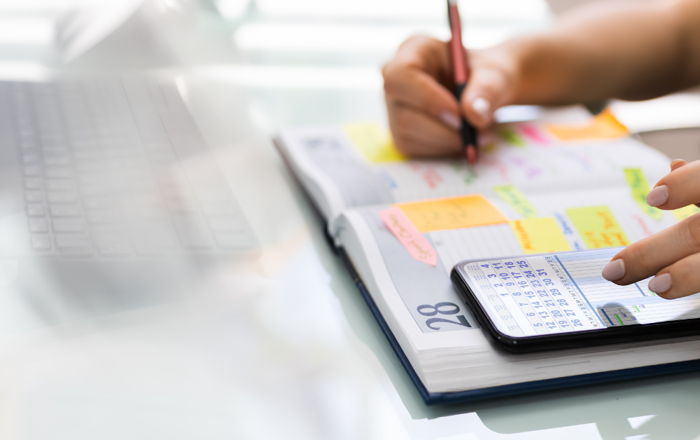 Weekly Roundup
Discussion Topic
Plan your 2023 Massage Schedule Now
Quick Tips
Type "doc.new" in Chrome browser bar to start a new Google Doc
Sponsors
Transcript:
Sponsor message:
This episode is sponsored by the original Jojoba company. I feel like we should be using only the highest quality products and that is Jojoba. The Jojoba company is the only company in the world that carries 100% pure, first pressed quality Jojoba. That means that they don't squeeze the seed quite so hard, they do a light pressing called the first press and you don't get as much Jojoba out of it, but it is the highest quality Jojoba available on the market. It's non-allergenic so you can use it on any client and every client without fear of an allergic reaction. That is my favorite part, it takes the fear out of putting my hands on people. You can get 20% off Jojoba when you shop through our link, massagebusinessblueprint.com/jojoba.
Michael Reynolds:
Hey everyone and welcome to the Massage Business Blueprint Podcast, where we help you attract more clients, make more money and improve your quality of life. I'm Michael Reynolds.
Allissa Haines:
I'm Allissa Haines.
Michael Reynolds:
We're your hosts. Welcome to our show today, we're glad you're here. I'm glad you're here too, Allissa, it'd be lonely without you.
Allissa Haines:
I've got to say, we're already off to a really good start because I muted myself properly before I coughed during the intro.
Michael Reynolds:
I noticed that. Yeah.
Allissa Haines:
So good day. Good morning, Andrew.
Michael Reynolds:
It's 04:38 and we're learning how to do this. Hey, Andrew.
Allissa Haines:
So 04:38. Oh goodness. Michael, what you been watching or reading?
Michael Reynolds:
Yeah. So my wife and I are watching this delightful show called Elementary. It's been out for a while, but we just recently discovered it. It's got Jonny Lee Miller, who I know from the movie Hackers, which is classic back in the day, and Lucy Liu and it's delightful. We really like deduction, crime, caper, solve mysteries kind of things and it's really smart and really delightful and we're just really enjoying it. So highly recommend Elementary. I forget what network it's on, I'm watching on Hulu, so it's on Hulu and probably all those places.
Allissa Haines:
Okay. So you know how many times I have watched Elementary start to finish?
Michael Reynolds:
I'm going to go with-
Allissa Haines:
It's twice.
Michael Reynolds:
Okay. I was going to say two or three.
Allissa Haines:
You got to tell people the shtick. So it's a Sherlock Holmes's take so there's the dude and whatever, is his name Sherlock? They don't call him Sherlock?
Michael Reynolds:
Yeah, Sherlock.
Allissa Haines:
It is Sherlock?
Michael Reynolds:
Yeah.
Allissa Haines:
Okay. And Lucy Liu is Watson. So they have Sherlock as an alcoholic drug addict I think, I'm not sure.
Michael Reynolds:
Drugs, yeah.
Allissa Haines:
And Lucy Liu is his handler, his very rich dad has hired a sober companion for him. So it's a Sherlock and Watson situation, but in modern day or whenever it was made, a decade or two ago. And I've got to say Lucy Liu is just stunning and she's a fantastic actress and I adore her.
Michael Reynolds:
Yes. Same.
Allissa Haines:
I love that you're watching this.
Michael Reynolds:
It's so good. Really enjoying it. So highly recommend it. What about you?
Allissa Haines:
So what I have been watching, so I have two things to tell you guys about today. So one, I've been watching Homegrown on HBO Max. Now if you go to HBO Max and you search for Homegrown, there's two shows called Homegrown and one is about terrorists and that is not the one I'm talking about. I'm talking about the Urban Gardening Show. It is so good, my friends. So it is based in Atlanta and it's a reality TV show, but I don't really watch reality TV so roll with me on this. Atlanta based farmer, Jamila Norman helps families transform their outdoor spaces into beautiful and functional backyard farms. Oh my God, I love this show so much, I've already blown through all of the episodes that are on HBO Max. And it's so great because you really do learn things that will make gardening and farming a little more accessible to you.
Now, I will say that after I watched the first four episodes, I had a Home Depot cart of $800 for raised bed gardens and all of the things I needed to grow tomatoes and cucumbers and a whole bunch of other things in my front yard next year. I did calm the heck down and realized that I was not going to have the time to do that. So I took out all of the raised bed stuff and vegetable related stuff and I just have my little trowel and gardening gloves because I'm going to stick to flowers for next year. But the goal is for 2024 to have a hopefully vibrant and lush garden in my front yard with all kinds of vegetables. My front yard's full of sun so there's really no reason not to do it. But this coming year should be finishing up the perennial flower garden stuff that we have going on and then 2024 is going to be all above vegetables. Anyhow, Homegrown.
Michael Reynolds:
It's on my list too. We can't do the whole front yard thing, we have an HOA, but I want to get those hanging boxes and do box gardens. That's on my list at some point to do as well.
Allissa Haines:
So can you do whatever you want in your backyard?
Michael Reynolds:
Within reason. I mean, we can't really turn the whole thing in... Well, I mean, within reason. Yeah, I could probably do something.
Allissa Haines:
Yeah. But you can do a lot in container gardens, they're awesome.
Michael Reynolds:
Yeah.
Allissa Haines:
So the second thing is what I've been reading and I happened upon it and I don't know, but I did, Viola Davis has a memoir called Finding Me: A Memoir. What I didn't know and what made me start reading it is I didn't know Viola Davis was born and raised in Central Falls, Rhode Island, which is literally the town over from where my grandparents lived and very close to where I grew up. She was in a very different type of community, she lived in some pretty massive poverty and difficult situations. But it was interesting to read a memoir of someone whose life was so dramatically different from mine and only took place five, 10 miles away, but it's weird when you know the landmarks that someone's talking about. And she is in a newer movie, The Woman King, something like that. And anyhow, so I had seen her on TV here and there, pumping this movie and then I came across her memoir Finding Me by Viola Davis and it's very good. And that's all the stuff that I'm watching and reading.
Michael Reynolds:
Awesome. Thanks for sharing. Andrew is joining us on Facebook and the comment's a little bit too long so I'm going to take it off screen so I can read the whole thing here. "I'm looking forward to the season premier of American Horror Story tonight. Reading/listening to the Philosopher's Toolkit on Audible from the Great Courses. Super excited for the CE Summit on Lymph and Lymphatic with ABMP later this month." Sounds exciting, Andrew, thanks for sharing.
Allissa Haines:
I'm going to talk about that summit in a little bit.
Michael Reynolds:
Nice. And then Marcy is joining us also on Facebook and says, "Good morning from me and Canelo." Canelo's her dog.
Allissa Haines:
Canelo the puppy that ended up making me get a puppy.
Michael Reynolds:
And then Andrew also-
Allissa Haines:
Who almost-
Michael Reynolds:
Sorry, go ahead. Andrew follows up with, "She's also in a lot of older Law and Order episodes."
Allissa Haines:
Yes, she is. I can't watch Law and Order, it freaks me a little too much. Although, I used to watch it when I lived alone and you can't do that. Yeah. What's next?
Michael Reynolds:
Hey, speaking of ABMP, they are our next sponsor.
Allissa Haines:
Oh, excellent. So sorry, I have everything out of order. So actually I am excited to talk about ABMP because they've been a long time sponsor. And I'm going off book on our normal talking points because I do want to tell y'all about the 2022 ABMP CE Summit, which is free, including the three hours of CE credit, free for everyone in the profession. It is Tuesday, October 25th. You can go to ABMP.com/summit and get all the info. It is live, happening next Tuesday, October 25th 2022. If you've missed it, my guess is if you are an ABMP member, you're going to be able to get the recording free in the learning center. And my guess is if you're not a member, you'll probably have to pay if you don't do the live thing, I'm not entirely certain. Yeah, actually it says, "This new CE course will be added to the education center after the event."
And as a matter of fact, all of that information is right here because ABMP is really good about giving us information. It is going to be phenomenal. There's a welcome from ABMP President, Les Sweeney, Ruth Werner and Megan Belanger are doing lymphatic system and essential guide to underrated system. All kinds of stuff, all kinds of teachers, lots of names you'll recognize addressing knee conditions, MLD for post-surgical clients, cupping in the lymphatic system, which I have seen a lot of questions about, basic techniques for neck and face. This is going to be a phenomenal education event so if you can do it live, do it, it's free for everybody. If you can't do it live, make sure you check out the education center, it is going to be there free for ABMP members and for a small fee for non-members. But I've got to tell you, they're always a reasonable price for non-members even. So yeah, that's that ABMP.com/summit.
Michael Reynolds:
ABMP is incredible, they just constantly over-deliver value. It's incredible.
Allissa Haines:
I mean it's a business, but they really focus on serving their membership and serving the profession as a whole and I really appreciate that about them.
Michael Reynolds:
Fantastic.
Allissa Haines:
And they manage to keep a business going at the same time, respect.
Michael Reynolds:
All right. Based on what we're talking about today, I'll bet you're going to tell us that 2023 is right around the corner.
Allissa Haines:
Oh my gosh. It's so right around the corner, which I'm really not prepared for. So I guess we're in the fourth quarter now, aren't we?
Michael Reynolds:
We are.
Allissa Haines:
October 1st.
Michael Reynolds:
We're in Q4.
Allissa Haines:
Oh my God. So yeah, our topic today is planning your 2023 massage schedule now. This is a recurring topic that I like to cover towards the end of a year because if you book your clients a couple of months out, I'm booking into December now, which means I have to make decisions about which holidays I'm taking off and what I want my life to look like. So now is a beautiful time, the next couple of weeks are a beautiful time to start thinking about next year in that, what did you not like about your schedule this year? Did you not like that you were having five clients in a day, would you prefer four? Would you prefer to go to work a little earlier, a little later or not on Wednesdays? Would you prefer to work a couple days in a row and then have three and four days off at a time? Or would you prefer to work three and four days and then have a couple of days off in a row?
What do you want more of? Or do you want to space your days out? That's what I need to do. If I have to go to the office more than two days in a row, I get super grumpy. Also, it's just more food than I can prep on the day before I have to go into work for two or three days in a row, it just stresses me out. So what works for you? What doesn't work for you? Because what does and doesn't work for us is going to change over time as our lives change and as our energy levels change and as our bodies change and as our sleep schedules change. All of these things change so we need to evolve our business to continue to meet our needs because our needs need to be the priority, otherwise we're going to burn out.
So plan now to avoid that burnout. What do you need to recoup from your work? Do you need longer weekends? Do you need full vacations, long seven to 10 day or more vacations? Do you want to not be working all these holidays that are sort of holidays? They're holidays for school and the post office, but not for a lot of businesses like Indigenous People Day or Veteran's Day or there's a President's Day, I think, they're school holidays and postal holidays, but not all of businesses closed so a lot of times we work instead. Anyhow, you get my idea. Do you want to take more school vacations off so you can be home with your kids? Or do you want to work more during school vacations and pay someone to watch your children? I can get on board with that.
Practical stuff. Was it a pain in the neck to get all your dentist and doctor's appointments scheduled this year? Were you constantly shifting your work schedule to do that? So maybe if you can schedule ahead, you can plan. I actually put in my calendar next spring a day to get my... Or no, it's a year from now. I put a day in my calendar because I already scheduled my physical for next year and I'm going to have my dentist, my eye doctor appointment and my physical all in one day, so I'm just taking one day off of work and getting it all done. Because I had them all within two weeks this year and it was a total pain in my neck to be shifting and doing and it was a pain. So I'm taking a day off next year to just do all of those things. Hopefully it'll work with all of those practitioner's schedules, I have it on a day where they're all in, I see my dentist next week, so I'm going to try to schedule that properly.
But maybe that works for you, maybe that doesn't. I just made my whole desk shake, I'm sorry for people watching on camera. Tax prep time. Do you need to schedule a day to just do your tax prep or half a day, whatever? That's something you should get scheduled into January or February so that you are not having us stay up late, all night the night before your tax prep appointment in March. So not everybody can think 365 days or more ahead, that's legit, that's fine, I know that I can't. But if you can't plan a full year and so you've been starting to tune out my suggestions, figure out what you can plan. Maybe that's just the first quarter, maybe that's just the first month, maybe it's the first six months of the year. Whatever you can do, do. A little side tip. If you clear a day in your calendar or block it off, be very specific about why you're blocking it off, literally put that note in the calendar.
Because I have absolutely blocked off a day real quick, not putting why and then had no idea why I blocked off the day. Because you're going to come look at it three months later and you're going to be like, "I have no idea what this is about." So definitely put a note in your calendar when you block off a day for a specific reason. And also a lot of what I've suggested is about taking time away from work, what if you decide you want to work more? What do you need to set up in your schedule so that you can work more? Is it doggy daycare? That's me. Is it childcare? Is it adjusting your space sharing arrangement? Do you need more time for admin time? And what supports need to be put into place for that? Do you have any big projects or expansions or ideas that you want to explore? Because it's great to set aside time and make that work time specifically for exploring new ideas and doing the research on that.
The final message here is that your business needs to serve you. So you've got to make sure you have a good balance going, whatever that balance looks like for you, it's different for everybody, whatever's best for you is the key. And figuring that out and being flexible with evolving it and being okay with disappointing a client or two if your schedule shifts a little bit, that's just going to happen. But your business needs to continue to serve you. That is my message.
Michael Reynolds:
Love it.
Allissa Haines:
I'm glad.
Michael Reynolds:
Sorry, I was just like-
Allissa Haines:
It's a simple one.
Michael Reynolds:
I was following along and I was like, "Oh, okay. Yeah." Yeah, it's never too early to think about that because it's October by the time we're recording this, but basically with holiday season upon us, the year is done.
Allissa Haines:
I saw that on Twitter yesterday. Someone was like, "Welcome to, 'Let's circle back on that in January,' season."
Michael Reynolds:
Yep. Exactly. That's what it is. And I love being super intentional about what you want, so many of us let our businesses run us and we are in charge, we get to decide how we run our business. So I love the fact that you're already thinking about, "Hey, what do I want next year to look like and how do I want my business to look? And I'm the one in charge of that." I really like that.
Allissa Haines:
Yep.
Michael Reynolds:
Thank you. All right. Well, speaking of how to run your business and you're in charge and all those sorts of things, we have a great resource for you as our last sponsor. And hey, it's us. We're the great resource.
Allissa Haines:
Yeah, let's talk about the Blueprint Mastermind community. And I'm going to talk about it from a personal standpoint today. I was having a problem figuring out how to communicate some stuff to my client base about some weird schedule things. And I had talked to a few clients and realized it wasn't going well and so I put a question out to the community like, "Here's what I need to communicate. How can I do that in a way that is better received?" And it was such a good experiment for me because some people were like, "Well, I think you're doing it fine." And some people were like, "Well, you could reword it this way." And some other people were like, "Yeah, you're doing it totally wrong and you're centering yourself in this and that's probably a bad idea." They said it way gentler.
And I was so resistant to that concept. And upon further thought and then a little bit of a private discussion with one of our members who is also a dear friend, I was totally wrong in the way I was handling it and I was making clients uncomfortable unnecessarily. And thank you Stacy, for setting me straight. But here's the thing, if I had put that question in a Facebook group of massage therapists of a bajillion thousand people, it would've been a mess. I would've had people telling me I'm right, I would've people telling me I'm wrong, I wouldn't have had really thoughtful input from kind people who have actually seen my face and I've seen them. And when you can see people and when you talk to people multiple times, you create this relationship with them and it makes you be kinder and gentler and more thoughtful in your speech and your ideas.
And that is what our community did for me last week. So you might want to consider joining, I don't know, 100, 200 other massage therapists who are helping each other. Our members are so smart and they are using their experience and sometimes their lack of experience to help each other navigate business issues, marketing issues, networking issues, financial issues, communication issues, sometimes even pathology issues, we've got a little room for that in our community and it's just awesome. We get to build our businesses together and we have people to right our ship with us when we go off course. You can learn more about that community at Massagebusinessblueprint.com/mastermind, you get the first 30 days free, it's $19,99 a month. If you're an ABMP member, you can use the link to get $5 off your monthly membership there. Massagebusinessblueprint.com/mastermind has all the info you need.
Michael Reynolds:
Yeah, right on. It's a great community.
Allissa Haines:
And again, thank you Stacy.
Michael Reynolds:
Yes, thank you to all who participate. All right, quick tips. You've got anything? I've got one small tech thing today.
Allissa Haines:
Bring it on nerd.
Michael Reynolds:
Want to hear it? All right. So did you know, dear listeners and dear reviewers, that if you're using the Chrome web browser, you can go to your address bar and type doc.new and it will spin up a new Google Doc on the spot? So you don't have to go to Google Drive and click new and start it. It saves you a few clicks, it just starts it right there on the browser. So I thought I would share that with our listeners because it's a nice little shortcut.
Allissa Haines:
What a brave new world.
Michael Reynolds:
I know. I mean, what amazing times we live in where you can just type doc.new in your browser and start a Google Doc, wow.
Allissa Haines:
Gosh, I love the future.
Michael Reynolds:
It's magic.
Allissa Haines:
This is better than Star Trek promised us.
Michael Reynolds:
Okay, I've never seen-
Allissa Haines:
Let's be done.
Michael Reynolds:
Yeah, I've never seen Picard start a new Google Doc from his browser that quickly so you might be right.
Allissa Haines:
I haven't either.
Michael Reynolds:
All right. Well, it's hard to top that so should we wrap up there?
Allissa Haines:
Please, let's end?
Michael Reynolds:
All right. Thanks everyone... What?
Allissa Haines:
Please?
Michael Reynolds:
Okay. Thanks everyone for joining us today, we are glad you are here with us. A reminder, you've probably heard us talking about comments and good morning people stuff, that is because if you want to watch the broadcast live, we do record this podcast every week, live on Facebook, Twitter and YouTube live. Pretty much everyone joins us on Facebook, but we're on all three of those locations at 09:00 AM Eastern on Wednesdays.
So if you want to stop by our Facebook page or our YouTube channel, you can watch us live and pop in questions and comments. But again, most of you listen on the podcast, which is awesome so we appreciate that. And if you'd like to learn more about us, you can find us on the web at Massagebusinessblueprint.com. Also, you can send us comments, questions, love notes, hate mail, whatever you want, that is podcast@massagebusinessblueprint.com, that goes to me and Allissa both, we'll both see it and we'll respond and we appreciate all feedback. So as always, thanks for joining us today, have a great day. We will see you next time.
Allissa Haines:
Bye.