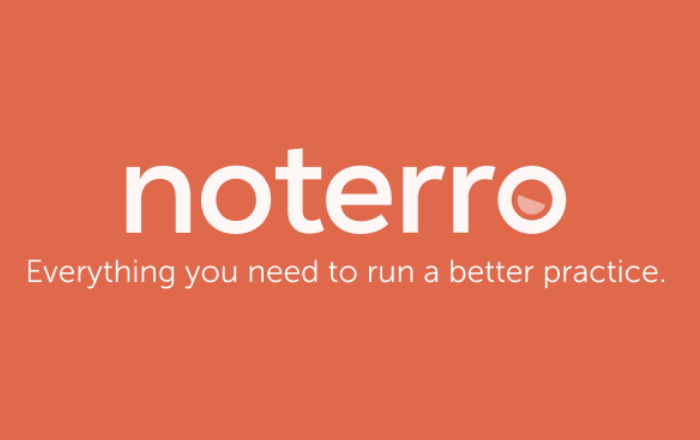 Nick Gabriele, Director and Co-owner of Noterro joins us to talk about improving our client notes.
Learn more about Noterro at Noterro.com
Discussion Topic
How to Quickly & Effectively Maintain Client Notes
Sponsors
Transcript:
Michael Reynolds:
Hey everyone. Welcome to the Massage Business Blueprint Podcast, where we help you attract more clients, make more money and improve your quality of life. I'm Michael Reynolds.
Allissa Haines:
I'm Allissa Haines.
Michael Reynolds:
We're your host. Welcome to our show today. We have a special expert interview episode today with our friend Nick Gabriele, who's director of Noterro. Nick, welcome.
Nick Gabriele:
Thank you for having me.
Michael Reynolds:
Yeah, glad you're here. For those who may be not familiar with Nick, Nick co-owns Noterro along with his partner Ryan Barichello and you are based in Canada, correct?
Nick Gabriele:
That's correct. Yeah.
Michael Reynolds:
Wonderful, love to have you on the show from up north and Noterro practice management software, and we are thrilled to have you talk today with us about our topic, which is how to quickly and effectively maintain client notes. I know you have a lot to say about this and a lot of our listeners are going to be super interested in this topic, so thrilled about discussing this today.
Michael Reynolds:
Let's start as always with a little bit of background you Nick. You are the director at Noterro and the co-founder and co-owner. Tell us a little about how you got here.
Nick Gabriele:
Sure. In 2011, both Ryan and myself, and we had another partner at the time, we started this project, it was under SOAP Vault at the time. And we were just basically looking for a platform that you could store notes because I had owned a school and we had run a public clinic and we had two huge credenzas filled with paper charts. Because it was a student clinic, there was a turnover of clientele and it was always going through the files and trying to get rid of dead files and so we're trying to find a better or more efficient way to develop a charting system.
Nick Gabriele:
It actually started as purely as a charting system in 2011 and like I said, I had owned another business at the time, it was a school, and Ryan also had owned more of a web development company. We brought our two skillsets together and we developed SOAP Vault in 2011 and it was only intended to be a charting software program. From there it had evolved and we just slowly grew the product, not a lot of features. People kept asking for more features. Can we do scheduling? Can we do billing? So we slowly added features and in 2018, we probably took a bit more of a serious approach and the two businesses that we started out with as our core businesses were put aside, and we've been focusing solely on Noterro since 2018, and we made quite a bit of changes.
Nick Gabriele:
If you took a look at the product in 2011 until 2018, it looks nothing like the product it does now. We went through a rebranding. SOAP Vault, I mean, was supposed to be around security and that's what the whole idea was that your notes were safely secure. And we quickly evolved from that into the bigger platform that we have right now.
Allissa Haines:
It's so heartening. I feel like when we talk to people who are developing software for massage therapists or these kinds of practice management systems, it's so heartening when someone on the leadership team is actually a practitioner or has been a practitioner, because I cringe sometimes when I'll get an email from someone who's like, "Hey, we're building a something. And we want the perspective of so and so," but they're already three years into development and by now it's way too late for anyone to have any tangible input. I so appreciate that.
Allissa Haines:
I remember, I mean, when I graduated in 2005, my first practice management system was literally a CD, a disc that I got in the mail and put into my PC and it was horrifying junk. And I remember looking at SOAP Vault for a long time. And then I just was like really wigged out about making the jump and then looking at it again last year and seeing the transition to what it is now and hearing so many of my colleagues say how slick it is now, I'm super excited that you are here to talk to us. And I'm super excited about this topic, but want to tell us a little bit more specifically about Noterro and what it does and all the features first?
Nick Gabriele:
Yeah, sure. And I'll just give it just a tiny bit more about my background, because as I was saying to you earlier, my background is in massage therapy, athletic therapy, and also a background in physical education. The one piece I did leave out, I used to do medical exams for people who are in motor vehicle accidents. I worked for the insurance industry, well not work for the insurance industry directly. I was contracted out by the insurance industry and so I did a lot of exams. But what I had exposure to was everyone's notes. I'm not talking about just massage therapist, I'm talking about physiotherapists, chiropractors, physicians, all the specialties that you can possibly imagine. And guess what? They all had really bad notes. First of all, either you couldn't read them or they were just missing information or, because I find it doesn't matter what you're talking about, what type of practitioner, they want to do one thing, they just want to treat. They don't want to get bogged down with this business of note taking and everything.
Nick Gabriele:
As a practitioner, I know what I used to do, as above, treatment as above, same as above. And so you do the same thing over and over and over again, but after a while, it didn't look very professional. So we tried to come up with a product that presented in a professional way. And as you said, the perspective, reasonably we did notes is because we thought all the other practice management software that was currently out in the market back in 2011, not currently, focused on running a clinic, not the therapist. No one ever considered the therapist's point of view. It was like, "Oh, we'll give you some text boxes and maybe we'll give you some diagrams that you can mark up very quickly, but no one really cared about the practitioner and how they would do it, or what their job was at the end of the day, because you didn't want to be bogged down with paperwork. That's what we were trying to solve. And that's basically what we're still trying to solve.
Nick Gabriele:
The most efficient way and effective way that someone to create notes in a very professional manner. And that's one of our core features that we strive for. And then we have scheduling, we have billing and we have insurance. We have so many features now compared to where we started, it's a much bigger platform than it ever was. And so we have most of the features and we're continuing to work on some pretty exciting stuff as well for 2022.
Allissa Haines:
So it seems like what you're telling me is that there's a better way to chart than my typical 60 minute relaxation massage with attention to left neck, or 90 minute relaxation massage with attention to left hip.
Nick Gabriele:
Yeah. And so-
Allissa Haines:
More, there's more to this?
Nick Gabriele:
Yeah, because if you do similar things, or let's just say you had a standard neck treatment, for example, you could store all that in templated, we call them snippets. So you can store all that information in snippets and when you're in one of the input boxes with a quick keystroke of a forward slash you have all that information, you can just drop in notes. You can dictate into the inputs as well, very quickly. You can see, I don't want to get too far into the weeds right now, but there's all sorts of things that you can do to create your notes a lot quicker and a lot more effectively than what's out there right now, or what you're doing right now.
Allissa Haines:
So where do we go to check out Noterro?
Nick Gabriele:
It's just simply nottero.com and we don't require a credit card for a trial. If you want to try it for 30 days, you can try it for 30 days. If you need more time, just let us know. We'll give you more time. So, it's fairly easy to sign up. We have excellent support. We have all kinds of videos to help you onboard.
Michael Reynolds:
I want to, before we move on to the topic, you're being a little modest, I think, and I want to really highlight Noterro because it's our time to highlight what it's all about. There's a ton of features for those who don't know. Noterro is more than just note taking, it has online scheduling. You can do online booking, you can do classes. Apparently syncs up with Google calendar. It's got a lot of really nice features that are bundled together that a lot of therapists would have to get by going to individual apps. So when you go to noterro.com, for those listing, check out the feature list first and then check out the pricing because when you compare the price to the feature list, it's extremely attractive. The price looks like it's $25 a month for the base subscription. Correct?
Nick Gabriele:
Correct. You get it one admin account and you get one practitioner account with that.
Michael Reynolds:
Okay.
Nick Gabriele:
Each practitioner after that is $10 a month. And then we have add-on features. That's actually the model we're going to. Know how you go into software and often it's a tiered model and you might want that one feature that's in the tier above you and so you have to jump into the tier above you? As we're starting to add features that either are proprietary to Noterro or features that could be carved out that a lot of people don't use, they're just going to be add-on features. And so it's going to be more of an ala carte of what you need and what you don't need so you're not paying for features that you don't want. So. You go to that that next tier and you go, "I get all these features, but I don't want all these features, I'm never going to use them. I only want this one feature in this next tier." That's the structure there or that's where we're moving into as well.
Michael Reynolds:
Nice. Thank you.
Allissa Haines:
I am a excited to talk about how to quickly and effectively maintain client notes because this is the Achilles heel in my practice. All of my notes are super boring and not nearly detailed enough. So tell me as an expert, what can I do to improve my client notes?
Nick Gabriele:
Well, it probably starts with the intake form itself. And so that could be challenging because as you know, you get those people who like to check off every single box on the intake form and you go, "Where do I start? What do I do?" One thing I've learned being in clinical practice over the years, the people that you're talking to, if you talk to them in an appropriate way and in an effective way, you can get the information out, they know what's wrong with them. They just don't have the vocabulary to articulate what exactly is wrong with them, if you know what I mean? And so you have to sort through this giant list and then you have to determine how am I going to treat them and what I'm going to do. And you're going to start with just the subjective information.
Nick Gabriele:
I like to use the acronym SOAP and it could be subjective, and that's what basically the information that they're telling you, any information. You look at your, we'll pretend. So we have an intake form and they've checked all this information off and you can just say, "What is bothering you currently?" So you sift through all this information, they may say, "I'm really having these really bad headaches." So let's start with the headaches because you can't treat everything possibly. Then in the subject of information, you start gathering the information, how long have you had the headaches, the occurrence, the frequency, and you go through all your questions and you gather that information and you wrap it in a nice little box called the subjective information. From the subjective information, you have it nicely categorized in the subjective information.
Nick Gabriele:
Next is the objective information and this is where people sometimes get confused. The objective information is any sorts of tests or anything that they bring to you that you're going to store. This is the information such as, let's just say that they were complaining of neck pain and you did range of motion testing. At that point you would take all your range of motion testing results, and you would put them in the objective field, for example. So the objective information is the information that you've gathered, you've measured and that's where you would store it. So we got the S which is a subjective that they told us.
Nick Gabriele:
The objective is anything that we've measured, anything that we want to put in there that they may also bring us results of some previous tests. This is the hard part is the A, because the A sometimes stands for analysis or assessment and people don't understand what do I put in here? They think they put the assessment results of the testing that I just did, so the range of motion testing, and that's not what goes in the A. What goes in the A is purely an analysis. They came in, they complained of headaches. I did a neck exam on them. I did range of motion testing. I did some special tests. And the A is purely an analysis of the data that you have above. It could be Mr. Jones is suffering from migraine headaches caused by myofascial pain on the right side of his neck. That's your A, that's your analysis. So now we have a nice picture of him. We have what he complained of, what we measured, what the analysis is.
Nick Gabriele:
Now we know what we're treating, and then the plan, this becomes hard for massage therapists because the plan is typically, if you think of it from a medical perspective, a doctor's perspective, the plan would be, the person comes in, the patient comes in complaining of something and they write a script and that's the plan. And then the person comes back. Well, in the massage therapy world, the plan is something that you're supposed to present or propose for the future. But our future happens to be five minutes after the assessment potentially. So you do the assessment, you determine what you're going to treat them for. And then you develop this plan. And so that's where you would put your treatment.
Nick Gabriele:
Your treatment can can consist of what you did, how you prep the area. You may start in prone line, and the treatment may have consisted of the back of the neck. And you did some trigger point therapy. You did some stretching, you did some ice, you did some heat or whatever you did, and you put that all in that area. And so now we have a nicely formatted note. We have subjective, objective, analysis, and plan.
Nick Gabriele:
Then we can go forward the next time we capture that note as opposed to writing everything down in a haphazard way. The challenge then becomes, how do we progress those notes each time without doing the as above, general Swedish massage, or whatever the typical shorthand or whatever people are formatting. And so the nice thing about it is you have a structure. The subject is not going to be the same next time they come in and you don't have to capture as much information because they told you all about the headache. The subjective could be just quickly as, "Tell me about your headaches? How how were they last week?" And they may say, "Well, I had no pain for the next three days and then they slowly came back." So that'd be your subjective information.
Nick Gabriele:
It's a story that you're just basically altering and changing over time. You might not even do it in the objective. The next time you might not do anything objective there might not be, you might do re-eval of the range of motion. Maybe that was decreased at that point. And the analysis probably stays the same and the plan may just slightly alter. And so what you get is a very comprehensive note taking system versus again, just putting it on a piece of paper and trying to figure out where you go, because the thing is, that you can look at your previous note and you know exactly where you were as opposed to ruffling through pieces of paper and trying to figure out where that person was, if that makes sense to you?
Allissa Haines:
It does and it's funny because the school, when I went to school, they taught us style, but they gave it to us in a very different way. And like you said, the analysis was super random and never in any way useful to me and your way makes a little more sense. So I appreciate that.
Nick Gabriele:
Yeah. People have challenges. They have challenge with that analysis because they don't know what to do and they have challenge with the objective because they go, "What actually goes in these sections?" And it's just a way of organizing your thoughts and a way of organizing your notes and the structure of the notes itself.
Allissa Haines:
So here's our random, oh sorry, go ahead.
Nick Gabriele:
No go. No, sorry.
Allissa Haines:
So here's a random question. What is something that people tend to leave out of notes that you think can be helpful treatment-wise or client relationship-wise? Is there anything that when you were in practice, you found yourself adding in and for some people it's just, "Client really likes heat," or "Client really hates Enya." What kinds of things did you find or do you see nowadays that you think people might be leaving out because it's not something we were taught?
Nick Gabriele:
I mean, that kind of information is relevant to the profile of the person. They don't like a table warmer or they don't like to be prone line or sup online, those sorts of things, but not specific to the notes themselves. I found the one area that people were able to do was this subjective because they could easily figure what to do in the subjective field. But truly is after the subjective, they didn't know necessarily what to do. And a lot of people, a lot of therapists, what they'll do is they'll go from the subjective and right into the treatment and they sort of miss the steps in between. It depends on what your practice is structured like. Maybe you're working in a practice that is not very technical and maybe you don't need to keep detailed notes like that. You do truly move into the subjective and there's nothing to complain about.
Nick Gabriele:
The thing that I've seen is, there's two things that people do. They're either super narrative or they have very little information. And the super narrative people just fill the information with things that are unnecessary. For example, I come in to see you and you'd say, "I filled out the health history, there's nothing wrong with me. I'm just in there for stress." To challenge these people, "Well, what do I write? What am I supposed to do?" Well, the subjective is quite simple. You can just take that information or maybe you delve into why I'm stressed for example, but the objective is there's really nothing to test. They're here for a body relaxation massage. And so the analysis you can put high stress, the person is under a high anxiety due to a stressful job or break up in a marriage or whatever. You can put that down there and then the treatment just becomes a general Swedish massage, relaxation massage with emphasis on the upper back and neck.
Allissa Haines:
I found with that, because I've actually steered my practice into working with people with anxiety. I really struggled with that kind of intake as my focus shifted because when there's no pain or there's no range of motion restriction, it feels like there's nothing coherent or cohesive to measure. I started asking things, when someone comes in and says they are very stressed, I think to myself, "Okay, what are the symptoms they're exhibiting that make them feel that they're stressed?" So I have things I ask about now specifically, how's your sleep? Any headaches, random aches or pains? And I make note of them because then the next time they come in I can say, "How's your sleep?" And if it's improved, "Woo hoo," I can take credit for that. Not really, but you get where I'm going.
Allissa Haines:
I've really found that being able to customize my intake for less tangible things like stress has really helped me sell my massage better and help people also consider in a more tangible way how it's benefited them. So in my haphazard note taking, I have figured that out.
Nick Gabriele:
Yeah. I think that's the biggest thing or the biggest challenge because a lot of people will seek out massage therapy for stress relief. And again, we're taught the format that I went through, it's a very regimented format and they go, "What do I put?" It's okay to leave those boxes blank. If there's nothing to put in those boxes, don't force it because there's no point of forcing it. If it's just the subjective that you have, and there's nothing for the O and the A, you don't have to use the O and the A. No one says you have to use the O and the A. They're there to capture information if you did measure something, or if there was an analysis on something, but if there's not, then you just go right to the P and it just becomes an S and a P at that point.
Nick Gabriele:
The other thing I find with massage therapists is, I don't want to say low self-esteem, but this feeling that we're the low men on the totem pole here. And I think what COVID has exposed is the amount of stress that people are under. I don't think massage therapists should ever underestimate the value of what they do. This then comes back to, "Oh, I'm just going for massage because it's stress relief," and people go, "Oh, it must be nice that you can afford a massage." "No, it's an effective therapeutic treatment. I'm going, because it helps reduce the stress in my life." And then how do you chart that? You chart that just exactly what they say. So a lot of the information for this, what we're talking about is captured under the subjective information, because we don't have the skillset to do the analysis or the objective tools to measure because we're not psychologists or psychiatrists, but we can still record the levels of stress and we can still record how they felt that after the treatment.
Nick Gabriele:
Whether you're talking about triggers, whether it be a headache, whether it be a job loss, whether it be just the stresses of dealing with COVID, the stresses of isolation, we can still capture all that information, but no one says you have to. We don't have the tools to measure it because most of it is outside of our scope of practice, but we definitely can effectively treat that person. And we can definitely record those in there. I think that also becomes a challenge when you move away from more of the musculoskeletal, the MSK stuff that people are dealing with and you move more into the things that people, a lot of times people go for, is just stress relief more than anything.
Nick Gabriele:
Believe it or not, when I was in practice, because I did do it for 20 years. I'm sure people just came in to talk, honestly, just to talk, because it's a unique field that you get to spend one-on-one time with someone for an hour that is neutral and you know it's going to be in a nonjudgmental way and they're not going to be saying to anyone. That's what I found very interesting and I know people just came to me just to have someone as a sounding board, not to solve their problems, but just to be in there and to listen to what's going on in their life and [crosstalk 00:23:08].
Allissa Haines:
To be heard and to be validated.
Nick Gabriele:
To be heard, yeah. And that was probably the most rewarding for me in the 20 years plus of practice. When we're doing notes, as long as you're capturing the information in some format, and the only reason I was suggesting the SOAP format because it is a structured format. And when we have structured, it's just easier to do. And it also reduces the stress in our lives. But by no means do you have to follow the structure and fill out the boxes all the time. There is nothing wrong with capturing, "After the last treatment I felt great and I had more energy and I started exercising," and whatever they're telling you. And then the treatment could be, "I just focused on the upper back and neck and I didn't do a full body massage." That's all you had to chart is exactly what you're doing.
Allissa Haines:
I'd like to go back 17 years and have you tell my teacher that, because I think I was made to feel that charting was something that had to be so detailed and so specific and that it overwhelmed me and I rebelled against that. And I think I've gotten a little too minimalist and I think my treatment plans and my client relationships could probably be improved by better charting. I've known this for years, I just need to get off my butt and do it.
Nick Gabriele:
Yeah.
Allissa Haines:
I have used a ton of different systems in my career. I started off with that computer based stuff from a CD download. I have used paper, I have used paper with pictures on it where I could circle body parts and make notes and all different little icons for stinging or burning pain versus sharp pain and, ridiculous over [crosstalk 00:24:50].
Nick Gabriele:
Yeah. Can I ask you something? When you found a new system, weren't you excited about it?
Allissa Haines:
So excited.
Nick Gabriele:
And then it just went swoosh. And then you just reverted back to what you were always doing.
Allissa Haines:
To 60 minute massage, same as always, attention to left neck. Yep, exactly. I've used an old school system on an old PC and I've used paper notes. And then I switched to a very different style of paper notes. And then I used my integrated scheduling system for a while, which was a hot mess when I tried to export it. And then I used Google Drive. And they've all had their pros and cons and all of that. But, part of the reason you're here today is to talk about Noterro, so do you want to tell us some of the things that Noterro, frankly, as the leader in online SOAP notes from the beginning when you were SOAP Vault, what are some of the ways that Noterro really excels in charting and stuff?
Nick Gabriele:
When I'm talking to people I always tell them to do one really good chart at the beginning. Especially if it's the first time you're seeing someone, just spend the time, it's like anything, it doesn't matter if you're gardening, if you're building a house, building a deck, it starts with that foundation. Always starts with the foundation, no matter what you're doing. Create a really good foundation and so the next time you book that person in, right from the calendar, there's a little button that says, new note or the little dropdown that says duplicate and that duplicate becomes your friend. You duplicate the note and it has everything that you captured on the previous note and all you do is make some little edits or you make some little ads. You may spend 10 minutes on that first note, but the next note, you can probably get it done if you're not deviating too far from your treatment and maybe the subjective field just changes a bit slightly, you can do your note in about a minute or two. That's probably the biggest time saver, but you have to start with that foundation and you have to start with a way of capturing that information.
Nick Gabriele:
Part of the note itself, we have a built-in assessment tool so we have all the range of motion tools for you. If you're doing range of motion for the neck, for example, all you do is select the neck, select the range. There's a little switch. You toggle a little switch and we put all the normative values there and you just have to slide whatever values deviate from normal and you can put a comment in there and it goes right into your notes.
Nick Gabriele:
The next time they're in, there's a duplicate function on the assessment so you might only grab those range of motion and you just make slight changes to it and that updates your range of motion so you can track that over time, very easily as well. That's probably the easiest way to do notes is the duplicate function, doing it from the calendar because when you do it from the calendar, it pulls all the information about the appointment. All the details, who to treated them, what they're in for, the day, the length of the treatment, and then you have that very accessible. And so you can do your notes from moving each note along with a few clicks and it makes note taking very easily completed at that point.
Nick Gabriele:
And then the finished product is phenomenal because you can present that information, whether it's for a lawyer, whether it's for a doctor, or whether you have to share that information, it doesn't look like you're giving them scribble notes on a piece of paper that they can't read. I remember my famous line whenever a lawyer would want my notes or anything, I would just say they contain abbreviations in short forms that only I could understand so I'd be glad to do a report for you. Because, frankly, my notes were awful and I didn't want to share them with anyone, they were almost embarrassing.
Allissa Haines:
I felt that way the first time a lawyer requested my notes. I'm like, "What now? Someone else is going to look at these?"
Nick Gabriele:
That's the nice thing about it, because you can download, and you can download it by a range. If they said, "I need notes from this date to this day," you can download them. And then as I was talking to you, the snippets, you can save template information and you can quickly drop information that you use repetitively over and over again. If there's a stretching routine, maybe you give them exercises and you don't want to have to capture that every single time. Well, you only have to put it in once as a snippet, it's stored as a template and then a quick keystroke and you just drop that into your notes. And so a very quick way of doing notes.
Nick Gabriele:
If you take advantage of the calendar, you take advantage of the snippets, you take advantage of the duplicate function, you can do your notes quickly and we track any notes. So when you're doing it from the calendar and you click on create note, whether it's a brand new note or it's a duplicate, we track on your dashboard, if you haven't finalized your notes, or you haven't completed your notes. So there's a constant reminder every time you go to your dashboard that you are delinquent in your note taking.
Allissa Haines:
Oh, man, I need that. I need a 100% accountability.
Nick Gabriele:
You can track that and you can run an appointments report and you can see, because imagine if your day is really busy, you don't want to have to click on everything in the calendar to find out if you did a note or not. Well, just run an appointments report and it'll tell you whether you've invoiced a person, whether you have started a note on that person. So there's ways to audit and ways to quickly find out if you've done notes. Because that's the other thing that was embarrassing is that a lawyer would ask and know how you're really busy and you'd just go, "Did I do notes on that person? I can't remember if I did a note." And the next thing you know, they've been in for three treatments and you go, "Oh my God, I haven't done it."
Allissa Haines:
And you have to compare it to your calendar and you need to make note of the ones you missed. Yes. And that then it's not contemporaneous note taking, which is required in my state.
Nick Gabriele:
Yes. So that becomes a challenge. You won't lose sight of that. And the nice thing about it is if you've missed a note, you can go back and either create it from the appointment or you can back date the note and finalize it. The problem with the finalized note, you can't edit at that point. You can add another note. So if a lawyer asks for the notes and you thought, "Oh my God, I should have added this information." Well, we allow you to add additional notes or addendums to the notes, but we date and timestamp them. So if they're after the time a lawyer ask for them, they're going to see a date and timestamp after the date that was requested. There is also accountability on our part in terms of the notes and the locking of the note or the finalizing of the note is digitally signing off on the note, if you want to look at it that way. And so that they know that there's some integrity to the note, if they're getting that note, that's when the note was created. So there's also integrity within the system.
Allissa Haines:
And again, it's an accountability feature. I know I need to do that because it is going to be recorded when I have done that. That's a really great feature. I like that a lot.
Nick Gabriele:
Yeah. Like I said, massage therapists, they want to massage, they don't want be bogged down by note taking. But the thing is it's part of the check-in process. Someone comes in and you quickly check, you click on whether it's a new note or you mark them arrived. You check on new note and you check on, click on, sorry, click on, you click on create invoice. And so it's part of your routine, then all these things are queued up for you and you don't have to remember, do I have to do these or have I done these? You'll see all your draft notes as I was saying. So it's nice just to have that information.
Nick Gabriele:
The other thing too is if you can talk, if you use a mobile device, all mobile devices have microphones. And if you put it in the input box, it understands basic dictation commands like period, new paragraph, and it'll format it properly for you. So if you can talk, you can also dictate if you wanted to. And so that's a lot quicker because I can talk a lot faster than I can type, I'll tell you right now. So you can also do it that way. And then there's some features that we do have of the notes. So we have diagrams, you're to talking about diagrams that you can mark up, but our diagrams are a bit different.
Nick Gabriele:
We have a tag feature, we call it a tagger, and we have the muscle diagrams of all the different views that you can use. We have the skeleton and different views and we have a silhouette and we have skin. Depends on what diagram, the muscles are all mapped to the diagram, so if you click on a body part, the muscle will come up, you can put your own location in and you can basically attach attributes to them. For example, let's say I picked infraspinatus and I did trigger point to infraspinatus, I can attach a trigger point therapy attribute to the infraspinatus muscle, and I can put a comment that it was very painful. Well, the next time I click on that spot, it's going to pull up my top five. So infraspinatus muscle's going to come up again. The trigger points is also going to come up. There's a top five list and your comments are going to come up.
Nick Gabriele:
The more you start using the tag feature, the more it learns the way you do notes, as opposed to us having prefilled dropdowns that you are going to select from. It's going to use your terminology, your comments, what you do on that part of the body. We're going to understand, and we're going to learn what you do on any diagram that you choose. There's some learning that goes on as well with the system and the more you use it, the more it becomes, click, click, click. And then as I said, it becomes very easy to use over time.
Allissa Haines:
That is robust. I like it. Michael, anything popping up for you? You ready to take us home?
Michael Reynolds:
No, I think we're good. My main question was going to be, what kind of devices does it work on? It sounds like it works well on mobile, tablets, laptop, any device someone might use, right?
Nick Gabriele:
Any device that you can use, obviously you need to have an internet connection because it is considered a software as a service. So it's not something you load on your computer, which is important. As long as you're running current versions of browser, it doesn't have to be the most up to date version of a browser. But if you are using an Apple device and you're using an iOS version, eight or nine or something, we just don't support it. Because we can only go so far back in supporting different versions of Safari, for example, or Chrome. So as long you're using fairly up to date software, it doesn't have to be the latest, as I said, but Chrome or Safari or Firefox or any of those, it'll work well. And you don't have to go out and buy a very expensive tablet. That's not what it requires. There are browsers that it doesn't work in. Internet Explorer is not a supported browser anymore, from Microsoft, so they've dropped that. Some people still use Microsoft, sorry, internet Explorer, and it will run, but there'll be all sorts of problems that you'll have with it.
Allissa Haines:
That's totally not the people listening to our podcast, so we're good. We don't even talk to those kind of people.
Michael Reynolds:
Yeah.
Nick Gabriele:
So for the most part, it will run on every device and so we don't have... The other question that people ask is, do you have an app? We have, you can install it as what's called a progressive web app. And we are going to be adding more features to the progressive web app. And so it looks like a shortcut. It's not actually a shortcut on your home screen. It's actually an app itself. So you don't have to go to the app store. You would load it as a shortcut and it's considered a progressive web app.
Michael Reynolds:
Nice. Well, great. Well, Alissa, do you feel like you got the information you were looking for today?
Allissa Haines:
I got the tips I needed. Thank you.
Michael Reynolds:
All right. Fantastic. Well, let's make sure we tell people where to find you one more time. And it's your website is noterro.com and that's spelled N-O-T-E-R-R-O.com.
Nick Gabriele:
That's correct. And as I was saying, there's a free trial and so you can try it out for 30 days. And if you need more time, just let us know.
Michael Reynolds:
I'll have to say, I love that you're free to trial does not require a credit card. I'm a big fan of free trials without a credit card because otherwise it's not really a trial, I don't think. The fact that you do without a credit card is a legit trial. So thanks [crosstalk 00:37:09].
Nick Gabriele:
Yeah. It's a legit trial.
Michael Reynolds:
It's easy to try out. That's a great thing.
Nick Gabriele:
You're welcome.
Michael Reynolds:
All right. Well Nick, anything else you'd like to add? This has been a great wealth of information today for our listeners. Anything you would add before we wrap up?
Nick Gabriele:
No, I think we've talked about a lot about note taking and how to effectively take notes. And again, just try Noterro and as I said, if you have any difficulties or any problems, our support is excellent and we will hold your hand if you need help, any problems or setting it up.
Michael Reynolds:
All right. Wonderful. Thank you, Nick. Appreciate your time today.
Nick Gabriele:
You're welcome.
Michael Reynolds:
Again, that's noterro.com, N-O-T-E-R-R-O.com. All right, everyone. Thanks so much for joining us today. Definitely reach out to Nick at Noterro with any further questions. And if you'd like to find us, our website is massagebusinessblueprint.com. Allissa and I monitor the form there. You can send us a note anytime, or you can email us at podcast@massagebusinessblueprint.com. That goes to both of us as well. So as always, thanks for joining us today, have a great day. We'll see you next time.