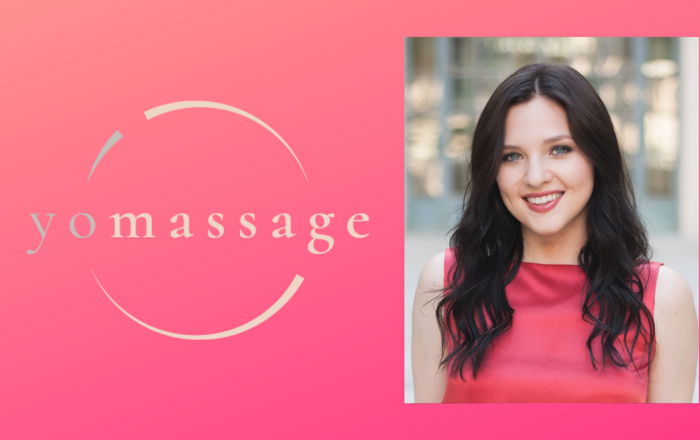 Discussion Topic
Katherine Parker, Co-founder of Yomassage® joins the podcast to talk about "The Reason You Aren't Getting New Massage Clients".
Yomassage sponsorship promo - MBB100
Transcript:
Sponsor message:
This episode is sponsored by Yomassage 2021 is the here to start incorporating stretch and mindfulness into your massage sessions. With Yomassage, you can combine restorative stretch, mindfulness and massage in a single one-to-one or small group session. The three week virtual training, with over 300 5 star reviews, runs once a month and counts for 26 NCBTMB approved CEUs. Use the code MBBYOMI that's MBB Yomi for $100 off the virtual Yomassage certification now through October of 2021. You can visit massagebusinessblueprint.com/yomassage to learn more that's massagebusinessblueprint.com/yomassage.
Michael Reynolds:
Hey everyone, welcome to the Massage Business Blueprint podcast, where we help you attract more clients, make more money and improve your quality of life. I'm Michael Reynolds hosting today on this expert interview episode. And today we have Katherine Parker joining us today from Yomassage. Katherine's the co-founder of Yomassage along with her business partner, Dr. Tiffany Ryan and Katherine is a regular on our show by now, Katherine, you've been on for quite a few episodes in the past. Always fun to talk marketing with you and happy to have you here. Welcome Katherine.
Katherine Parker:
Yeah, I'm so excited. Always happy to be on Massage Business Blueprint and talking to you about marketing.
Michael Reynolds:
Absolutely. So it was a fun topic today. We're going to have a fun conversation about the reason you aren't getting new massage clients today. So I'm really intrigued by that. Can't wait to hear more, but let's start as always with little bit of background on you. I know you've been on many times before, so some of our listeners may know you very well, at least virtually some of our listeners have taken your classes through Yomassage, which we can talk about here shortly as well. But for maybe those who are newer, maybe who are just joining us recently on the show, could you kind of walk us through a little bit of your journey and your background, especially on the marketing side of things and how that brought you to Yomassage along with Tiffany?
Katherine Parker:
Yeah, so it's definitely something I want to get into today because that's kind of the topic and where I'll draw most of my insights from today on is my experience as a small business owner. About four years ago, I opened up a yoga studio here in Portland and learned a lot about being a small business owner and connected with a lot of people and have kind of grown a little bit of a community here in Portland. And I'm excited to talk to you all about my experience and then just from talking to of massage therapists that have gone through our training about their experience and learning from them and what's worked for them and what kinds of things that they struggle with and why. And yeah, I'm super excited to talk to everyone.
Michael Reynolds:
Awesome. So let's look a little bit deeper into your background in marketing. You've had a lot of experience in marketing. So obviously you and Tiffany are the masterminds behind Yomassage and you handle more of the marketing side of things from my understanding. So tell us about your background in marketing.
Katherine Parker:
So I guess my background in marketing is mostly, I feel like what I've learned from marketing, what I do now is mostly from my experience at the yoga studio and then also from growing Yomassage. And I learn a lot from other brands and I do a lot of research online about marketing and all of that. I do have a minor in business and I've taken some marketing classes in college, but I wouldn't really say that those super helped me with what I've been doing now with Yomassage and the yoga studio and everything. But yeah, it's been about four years of growing a couple of different businesses and just learning the ins and outs of marketing, mostly social media, and then other ways for small businesses.
Michael Reynolds:
Well, it's funny, you mentioned your business degree, maybe have a little bit helpful, but most of your experiences come from just that, experience. And for those who maybe don't know you as well, just watching how Yomassage has grown, how you approach your brand, how you approach the market, the work you're doing is incredible and very effective for Yomassage. So I'm convinced that the actual act of learning marketing kind of on the job, so to speak is the best way to get experience in marketing. The academic world is useful in many ways, but often it's the getting your hands dirty with social media and technology and tools and testing and seeing what works for your audience. That's where the real work happens. And you've done a phenomenal job of, over the last few years, building up the massage brand, and you've given some really great advice to our listeners as well in past episodes. For example, the Instagram episode was extremely insightful and your observations and your experience has been super valuable to our audience. So, good stuff. Really love seeing it.
Katherine Parker:
Yeah, that's great to hear that people have gotten value from this and I hope that we can give some new insights in this episode as well.
Michael Reynolds:
Yeah, yeah. Before we get to that, let's... Not only are you a guest on today's episode, but as in the past, you're sponsoring today's episode as well, which we appreciate. So before we jump into the meat of the conversation here, can you give us a little bit of background on what Yomassage is? Kind of tell us what it's all about, who might be interested. I think you have a special offer today for us as well.
Katherine Parker:
Yes, we do. We have a special offer, a hundred dollars off of our trainings for any Massage Business Blueprint listeners with the code MBB 100 and Yomassage, We started back in 2018. Tiffany and I created it as, it started off as just an offering at my yoga studio. And then it was so popular that we turned it into a training and have kind of really developed what different sessions can look like from there. The core of it is making therapeutic touch more accessible to people, not only in price, but in just making it something that you want to do more often and something that feels maybe comfortable for people who have never gotten a massage before. So allowing people to experience that fully clothed in a group environment is something that was important to us. So we also incorporate mindfulness meditation and restorative stretches into the session.
Katherine Parker:
So it can be one-on-one where you're led through a series of restorative stretches and there's mindfulness throughout. And it's something that you can do one-on-one or you can have couples, you can have up to five people in a session as well. And then we also have a version that can be done on the table. We have a version that you can learn how to use your feet and administer a Yomassage session. So we have a lot of different options for you as a therapist to incorporate it in a way that feels best for your practice. But yeah, that's pretty much it.
Michael Reynolds:
And you offer virtual trainings.
Katherine Parker:
Yes, we do have virtual trainings. We offer our Yomassage training, which is our most popular one. That one teaches you everything you need to know. It's 25 hours. It teaches you how to do a group session, or one-on-one, anything between one person up to five people. And maybe even more, if you have a supporter and you can learn that virtually through a three-week training that you do at your own pace, but there's weekly due dates and there's a master trainer that leads the training. So they're grading all of your assignments, giving you feedback. You're with a group of massage therapists as well. And most people come out of the training with a big group of friends that can help support them in their massage classes as well.
Michael Reynolds:
That's awesome. One thing I love about Yomassage is its scalability. So a lot of times as massage therapists, the norm is working one-on-one with clients, and that means you quickly hit a ceiling of the number of hours you can physically work, which limits your income, but with Yomassage, you're able to scale out and serve more clients at one time, which allows you to increase your income without necessarily working a ton more hours. So I think it's valuable to our listeners who were thinking of, Hey, how do I scale my practice? How do I not work so many more hours, but also increase my income at the same time? I love that.
Katherine Parker:
Mm-hmm (affirmative) yeah. Definitely.
Michael Reynolds:
So what you're doing is very valuable. So MBB100 is the code. So we go to Yomassage.com I assume, and sign up there. And the code is MBB100.
Michael Reynolds:
So thanks for that for a hundred dollars off. That's a good offer. Thank you. All right. So let's jump into the conversation around the reason you aren't getting new massage clients. Wow. This really hits home for a lot of us I think. A lot of us are wondering, Hey, how do I get new clients? And why is it not happening? Or why is it not happening sooner? And it seems like a lot of massage therapists feel like they're having a really hard time growing their practice and getting those new clients. And it sounds like you have some insights around this topic. And so what have you learned? Where would you like to start?
Katherine Parker:
So yeah, this is for those of you therapists out there who like Michael said are having trouble growing your practice, or maybe growing like within your niche even. Maybe you have a practice and you have a few clients and you're like really wanting to get into a niche or a certain modality that you've added. And yeah, it can be really hard. And I will say that a lot of our therapists that go through our training, that our Massage Business Blueprint listeners, they're always the ones that are like really good at marketing and really successful with their classes.
Michael Reynolds:
Oh, I love to hear that.We think they're pretty special too.
Katherine Parker:
Yeah. Yeah. They're great. You guys are awesome. So yeah, I think that whenever you have a small business, there is a different way of marketing than we might do for Yomassage, or you might be doing for Massage Business Blueprint, especially with a small business that's local.
Katherine Parker:
And so I think it's really important to focus on the community and that's what I'm going to be talking about. And so I know a lot of therapists whenever I talk to them or small business owners, they think that maybe they can put up a website and put up a few posts on social media and then maybe even put up a few flyers and expect that the clients like come flooding to them and then are confused when they don't. And I think that's how I was whenever I first opened my yoga studio as well. I opened up the yoga studio, made a website, put up flyers, started like an Instagram account and then just kind of waited for the people to come and that doesn't usually happen. And so what do you do to actually make your business grow? And those are the things that I want to talk about today.
Michael Reynolds:
So don't keep us in suspense. What do you do to help your business grow Katherine?
Katherine Parker:
So the thing that helped me most whenever I started my yoga studio. I think it was a few months in, and I don't know what gave me this idea, but I was like, I need to start meeting with other small business owners. There were several businesses around me, even, there was a fitness studio right next to me. And I had never even gone over and talked to them. And I think, I thought , well, they haven't talked to me. And then there's all these other small businesses around and I hadn't never even made an effort to connect with any of them. There were other yoga studios in town, obviously and wellness studios that I just, I wasn't connected in the small business community. I was actually working at a law firm and that was kind of the community that I was in. And I thought that it would be important to start trying to connect with other small business owners.
Katherine Parker:
And so I made a goal to try to meet with someone once a week. And so I just started emailing people and said, Hey, I just opened up a yoga studio. I'd love to connect. And I think I was actually thinking that it was going to be more for a partnership. Like I message some CrossFit people and some gym owners and maybe thought that we could have a cross-promotional type of thing. But what ended up happening was I started feeling like I was growing a community, learning about their business and their struggles and what they do and how they market. And I think that was the biggest game changer for me was starting to get connected in the community and learn about what other people are doing.
Katherine Parker:
And also learning that, oh, I'm meeting with this CrossFit gym owner. And he is connected with all of these other small business owners. And I was noticing a pattern that everyone I talked to was connected with all of the small business people in their community. And I was like, why am I not connected? That seems like the key is just being really well connected and knowing people, being friends with other small business owners. Helping support each other too, because whenever you're friends with someone, you talk about what they're doing and maybe you know a CrossFit gym owner, and then you talk to someone and they're interested in CrossFit or fitness. And then you're like, oh, I know this amazing CrossFit gym, you should go here. And the same thing happens with massage. And so just getting out there, I think is the key. And I want to obviously talk about some tips on how to do that, but I'd love to hear from your experience too Michael, what you think about kind of that aspect.
Michael Reynolds:
Well you're speaking my love language, which is networking. So very much on board. I think that a lot of times, we see in our community massage therapists are really focused on, heads down client on the table, in the office. It's a very, I'm in my massage studio kind of mindset. And we don't always think about getting out and being in our community and meeting people and having coffee or having lunch, or just simply even virtually connecting with people in our community. And it's often something we just don't think about. And I've said this over and over for years to the massage therapist who we work with is if you want to grow a practice quickly, start networking today. Just get out there and network and networking can take many forms. And I know you're going to talk about some of the forms that you've seen work, and some of the tips you have.
Michael Reynolds:
But to me, whatever form of networking that is, get out there and talk to people otherwise they don't know about you, right? You have to have people know about you before you can even make social media effective unless you're spending money on it which a lot of us aren't in a position to do. So, yeah. Networking to me is the quickest way to grow, whether it's a new practice or practice that you need to kind of take to the next level. So I'm very much on board and I would love to hear some of the, maybe some of the specifics you mentioned you had some tips for massage therapists when it comes to getting out there and meeting people, right?
Katherine Parker:
Yeah. So networking can be kind of a scary word for people. And almost sometimes the word itself feels a little bit in genuine. I don't know. Whenever I think of networking, I think of going to a specific networking event and talking to as many people and exchanging business cards and just having surface level conversations about your business and...
Michael Reynolds:
People in suits having cocktails.
Katherine Parker:
Yes, exactly. That's, in my mind what networking is. So I don't know if some of the listeners agree with that, so it can be a little bit scary and honestly, networking events like that have helped maybe a little bit, but everyone that I've met and sat down and had coffee with, those have become either good friends of mine that I actually hang out with, or just people that I meet with regularly and have great business advice, relationship type of stuff with. So I think maybe if networking is something that scares you, maybe reframe it and just think of like, okay, I want to try to make more friends and colleagues who are doing what I do.
Katherine Parker:
Because as a small business owner, it can be kind of lonely sometimes. And even just going out and networking and not feeling like you're actually developing. If you don't feel like whenever you network, you're developing relationships with those people that you could actually ask them for advice, or maybe ask them to sit down and hang out sometime, those are the types of relationships you want to be cultivating that are actually going to help you is ones that you can get advice from and ones that you can do events with and ones that are actually going to be your friends long-term. And so I would try to reframe that in your mind and figure out how you can do that. And I know it can kind of be scary if you're an introvert or a massage therapist. That's like, I just want to be in my room and not talk to anyone and just do my thing.
Katherine Parker:
It's hard to grow a business like that if you're not out there in your community and meeting like minded people. So what I did was I just emailed people and I still do, or I message them on Instagram. If you don't have a Instagram account that you'd want to message people, just send an email and you might send five emails before one person gets back to you and that's okay. Or you might get all five emails back. I think that doing emailing, like this is different than cold emailing to get clients. I do find a lot more success whenever I'm like, Hey, I would love to connect and pick your brain and see if we can help each other. Just learn more about your business. And yeah, I found that every single person that I meet with, they have that with other people as well.
Michael Reynolds:
And where did you find the email addresses? You just went to their websites and found it there.
Katherine Parker:
Yeah. Most of them have, especially if it's a small business, there probably is going to be the owner who's obvious to find on the website or it might just be that one person's website. You should be able to find like... Fill out the contact form on the website or find an email on the website, or maybe you DM them on Instagram or Facebook or something like that.
Michael Reynolds:
Or even LinkedIn.
Katherine Parker:
Yeah. LinkedIn would be good too.
Michael Reynolds:
That, it's not as fun, but it does work sometimes. So you really unlocked something in my brain I want to land on for a second, which is that networking doesn't have to be all about business and exchanging value. It can be about simply making friends. And that's something I'm guilty of a lot is I think of networking, as... I'm pretty much all business when it comes to networking. Like if someone... I just imagine you reaching out to me as a business owner and saying, Hey, can I hang out and pick your brain? My instinct is to be like, well, no, what's the agenda. What value are we going to exchange? How are we going to help each other? I want to know, what's the result of this meeting.
Michael Reynolds:
I'm super result oriented like that, which is my high D personality in the DISC profile. I'm very much like that, but that's not terribly effective for everyone. And you've really unlocked this other angle, which is networking can just be about making friends and just making connections in your community. And you don't have to have an agenda. You don't have to be totally crazy like me about it. And you can just say, Hey, I'd like to get together for coffee. I'd like to just kind of learn about how you've grown your business and maybe we can share tips and you can keep it as simple as that. And I really appreciate you unlocking that for me in my head.
Katherine Parker:
Well also... Yeah. I mean, I think if you just think about it, like the people that you actually have relationships with friends who are business owners, you're probably more likely to recommend them and talk about them to other people, rather than just someone that you networked with one time with a specific goal. And so I just kind of realized that along the way. I think two things that were really eye opening for me was one time we changed locations for my yoga studio. And so I had an opening party and I had someone come to the party who, I think he owned an ice cream shop nearby and I was talking to him and he was like, yeah, I owned the shop for however many years. And he was just telling me everyone he knows on the block.
Katherine Parker:
He's like, oh, do you know, so-and-so do you know this person? I'm like, no, I don't know anyone and it just made me realize you can't be a small business with a physical location and not know the people on your block and in your community, it's just not going to be successful. And so that was an eye-opener for me as well. And then I was meeting with someone else who I meet with regularly, who I met from the studio and she has a, it's like kombucha, but it's called water kefir or Reefer water. And I was talking to her at one time and she was like, yeah, I just had a question about bottles and I just messaged this other company that does kombucha on Instagram. And they helped me out and they told me who their supplier was and everything.
Katherine Parker:
And I was like, wow, that's really interesting that you can just ask someone who's, I don't know, maybe seems like they might be a competitor just for advice or. And she was like, yeah, we're all super connected and help each other out. And if we ever have questions or need help with anything, everyone's always willing to help out. And I just thought that that was so interesting and really nice and made me want to get more connected with people. And I do really see a difference whenever I make the effort to do that.
Michael Reynolds:
So I'm sure a lot of people are wondering right now. Okay. Sounds great. Making friends, making connections. All sounds great. But how does that actually lead to real business and real clients on my massage table?
Katherine Parker:
Yeah, that's a good one. So I think the first thing is you're getting advice and insight from people who are working with the same types of clients in your communities. So if we think about people who would maybe be more relatable to your business, probably gym owners, yoga studio owners, other massage therapists, people in the mental health field. So like people have their own counseling practice, nutritionists, Reiki, anything like that. I think those would be good people you to talk to. And so let's say that you reach out and you meet with one of those types of people a week and then maybe even develop a relationship with them. You're going to have... Especially if they're successful and have been around for a long time, you're going to have some really good insights on what they've done for marketing, where they've found the most clients, what kind of discounts they do and what time of year and how they market their stuff.
Katherine Parker:
And that's extremely valuable. You can listen to a podcast or do research online and figure out these marketing tips. But whenever you talk to someone who's actually doing it in your community to clients that you'd want access to, you're going to have different advice and it's way more specific to you. So it's almost like talking to a mentor who is already in your field. You can talk to a mentor too, who can help you a lot. But someone who's so close to your community, I think that that's so, so valuable. And so I think that's the main way is getting advice from someone who's basically doing the same thing you're doing.
Michael Reynolds:
Yeah. It's kind of like an informal mastermind group.
Katherine Parker:
Yeah, exactly. Yeah.
Michael Reynolds:
Which is really valuable. A lot of people find a ton of value in a mastermind group of peers that can, we can share insights and tips and advice and in an informal way, that's what you're creating.
Katherine Parker:
Yeah, for sure. And it's more one-on-one and you are helping each other too. So I don't feel like you don't have anything to add value to. It also helps people, even whenever I was first starting off and I didn't even have any advice really to share people would message me after and be like, that was really helpful for me to talk through and yeah, I think it's helpful for people, no matter what stage you're in to kind of talk about your successes and struggles and all of that.
Michael Reynolds:
So do you find that connecting with other business owners not only leads to insights and advice that can help you in a strategic sense in your business, do you find that also at least a more referrals?
Katherine Parker:
Yeah. So that's the other thing is having that advice and those insights, but then also having someone built in who knows you and likes you and loves your business, that they're going to talk about you to their clients. And I do the same thing. Everyone that I have developed relationship with, in this community, I talk about them all the time. Like, if someone mentions CrossFit, I'm like, oh, do you know, CrossFit Magnus or if someone mentions kombucha, I'm like, oh my friend does this, you should try it. And it's not even like, I'm forcefully trying to, or anything. It's just, I've developed a relationship with this person. I love them. I love their company. I love what they stand for. So obviously I'm going to mention it anytime something like that comes up in a conversation. And I would think that they would do the same thing for us. So, yeah, definitely.
Michael Reynolds:
Outstanding. So are there any other tips or I guess, value that you found coming from connecting? We find that obviously connecting with other business owners leads to insights and kind of a mastermind concept. We found that it does lead to referrals as well. Have you found any other benefits that come from these connections, maybe even informal or non-direct business related benefits, but just benefits in general?
Katherine Parker:
Definitely one other benefit is just feeling more motivated and inspired by these people and having someone to be able to relate to. And every time I meet with someone who's also a small business owner or has a startup or something, I feel super inspired. I feel like my energy is back up and ready to... I just feel more motivated and inspired. And then I will also say that getting a group of a lot of these people together and doing a free event can be a really good idea. So once you start to develop these relationships with people, maybe once a month try to get everyone together and say let's put on a free event for the community and you can do cupping, I can do table massage or I can do Yomassage and you can do a 15 minute class or whatever.
Katherine Parker:
And we've been doing that in Portland and it's just been so fun and a good way for everyone to get exposed to more clients. If I bring five people and each other business that's there brings five people, that's a significant amount of new faces that know your brand now. And so, yeah. It's just great for everyone.
Michael Reynolds:
Yeah. Yeah. Well, that's fantastic. So I love the simplicity of your message. So it sounds like if I could recap the essence, the reason you aren't getting new massage clients is because you're not getting out there and meeting other business owners. That's kind of the message, but the experience you've shared on how that works and kind of the benefits and the result can come from that is really powerful. And often the simplest things are the things that make the biggest impact. So I think in my brain, a lot of things have unlocked and I see things from a new perspective now. I think this is going to help a lot of our listeners kind of figure out, okay, great. This is something simple I can do. It's not something that takes money. It doesn't take a lot of skill. It doesn't take me learning Facebook or Google's algorithm or whatever. It simply takes me sending an email or picking up a phone and just making some friends in the business community. And that's something all of us.
Katherine Parker:
Yeah. And I think if you don't start here, everything else that you do will not be as effective. If you don't have this foundation doing Instagram ads, growing a social media, doing anything with a blog or a newsletter. Those are not going to be as effective if you don't already have this foundation and community and support system, and these people will help you. They want to help you and you want to help them too. You want to see them succeed and they want to see you succeed. And you're going to be able to help each other a lot. So yeah, I would say this is definitely the foundation that you need to have, and that it will be really hard to have a successful business if you don't already have this foundation.
Michael Reynolds:
Beautiful. Thank you very much for sharing all that. Is there anything you feel like we've missed in the conversation or you'd like to come back to or add?
Katherine Parker:
I don't think so. I think that was a good talk and I hope that you either are realizing that you do have this and are thankful for it and hoping to grow it or realizing that this is something that you want to do. And if there's anything that you feel like you want to do this, but you still don't know how, let us know, and we can try to answer some questions on Facebook to help you get out there in your community.
Michael Reynolds:
I'm guessing even for introverts, it gets easier after that first or second outreach and you start meeting with people, it gets easier, I would assume. Right?
Katherine Parker:
Well, I'm an introvert. And I think for a lot of other introverts, meeting one-on-one and talking to people one-on-one, that's your jam, as an introvert, you know? So it's great. It's probably, maybe for extroverts, maybe harder. I don't know. But I find that for me, meeting one-on-one with someone and having a good, long conversation over coffee. That's my jam as an introvert.
Michael Reynolds:
That feels much better than a room full of 100 people exchanging business cards.
Katherine Parker:
Yeah. For sure.
Michael Reynolds:
That gives me anxiety sometimes. As someone who loves networking, I'm not super extroverted. If I'm in a room with people I don't know, they're all expected to exchange cards and tell people what they do, I just kind of freeze up. I'm like, I don't really feel comfortable here, but you know, I like small groups. I like structured groups. I like one-on-one. So again, networking can take many forms and this is something very simple. I think many, if not most or all of us can do. So, thank you, Katherine. I really appreciate that. So let's be sure we come back and circle back just to the offer you shared with us. MBB100 is the code, and that gets you $100 off Yomassage training on the website at yomassage.com. Again, is that any training or a particular training?
Katherine Parker:
Any training.
Michael Reynolds:
Okay. So any training you see on yomassage.com again, use the code MBB100 for $100 off. So we appreciate that. So Katherine, awesome having you on the show as always. I know we'll have you back for more great conversations, but I really appreciate your time today.
Katherine Parker:
Thank you so much.
Michael Reynolds:
All right. Thanks everyone for joining us today. We appreciate you being a listener. As always, you can find us on the web at massagebusinessblueprint.com and you can send us an email at podcast@massagebusinessblueprint.com and also check out our private membership community, which you can find on the website as well. You can try it free for 30 days and network. Speaking of networking, you can network with some of the smartest massage therapists in the industry, and we'd love to see you there. So with that, have a great day. See you next time.